International Dance Fest
Want to see some vibrant dance performances from all over the world? Here's your chance! Stop down to Auld Pavilion in Antelope Park on Saturday September 19 from 11 am to 4 pm. There will be four dance performance groups, cultural displays, fun activities for kids and adults, wood fired pizza from Spokes Pizza, and more!
Admission is FREE!
12 noon - Lincoln Irish Dancers
1 pm - Karen Dancers
2 pm - Umonhon (Omaha) Society Dancers
3 pm - African Culture Connection
Meet our Karen Neighbors
We had a blast at our event Meet our Karen Neighbors, which featured music and dance performances from Lincoln's Karen population. Thanks to everyone who came out!
On January 4 2015, we went to the Karen New Year Celebration put on by the Karen Society of Nebraska. It was a wonderful event that featured traditional food, music, song, and dance performances. The highlight is the don dance, which is meant to reflect Karen cultural values. The entire new year event is a great way for the Karen community to come together and celebrate their culture. It's also a way for the greater community to experience one of Nebraska's fastest growing ethnic populations. 
Harvest of Traditions
Hey folks, it's time once again for our annual Harvest of Traditions! This year's celebration will be October 11 from 11 am - 3 pm at Auld Pavilion in Antelope Park (Lincoln). There will be four wonderful performers, fun activities for kids, and food available for purchase. Come on down and celebrate some of Nebraska's rich cultural history.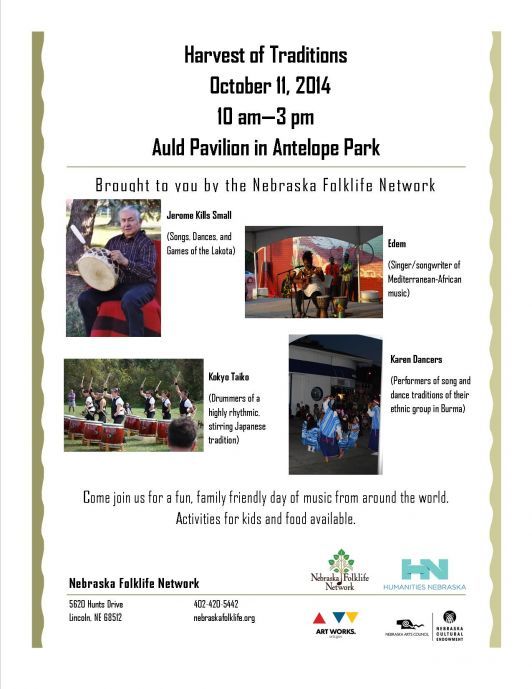 Culture Crawl
We attended an event called Culture Crawl, which was part of the August Benson First Friday. There was music, art, handicrafts, food, and much more by local refugees and immigrants from all over the world. It was such a great night!
Dia de los Muertos (Day of the Dead) 2013
For Dia de los Muertos (Day of the Dead) 2013, the NFN helped set up a traditional ofrenda(offering altar) at the Sheldon Museum of Art in Lincoln. Thanks to everybody who came down! There were snacks, face painting, crafts for kids, and the great music of Mariachi Zapata.
Diferent Drums: Beats from Nebraska Cultures
Hey everybody! The NFN is hosting another international cultures night. This time the event will feature three drumming performances from different cultural backgrounds that are represented here in Nebraska. The event is titled Diferent Drums: Beats from Nebraska Cultures. It will be on April 19 from 7-9 pm at Mo Java coffee shop in the Havelock area of Lincoln. There's so much cultural diversity in Nebraska. Let's celebrate it!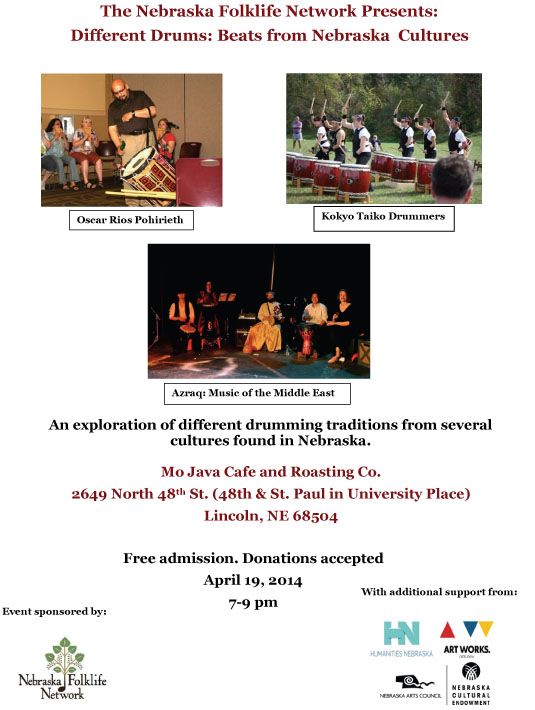 Get ready for Harvest of Traditions 2013!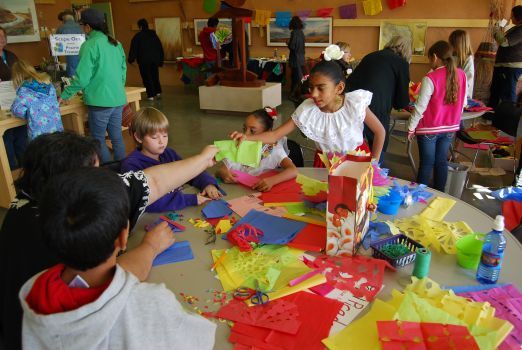 The Nebraska Folklife Network is gearing up for its next fun-filled Harvest of Traditions festival. Join us for the 2013 Family Fiesta on the Prairie at the Spring Creek Prairie Audubon Center for a day full of family-friendly fun, music, dance, food, crafts, games, educational activities, and more. The event is October 12th and will run from 11 am until 4 pm. Music will be performed by Cuban dance band Son del Llano (frontman Rene Paula featured on the left). Also, Oscar Rios Pohirieth (below) of the band Kusi Taki will perform South American music, courtesy of Humanities Nebraska. Finally, there will be the dancing of Grupo Folklorico Sangre Azteca (bottom).
An exhibit of dresses worn by local Latinas for their quinceañeras (15th birthday coming-of-age celebrations). There will also be plenty of opportunities to learn about and enjoy the prairie conducted by Spring Creek Audobon Center volunteers. Admission is a $5 suggested donation, free for children 12 and under.
Let's explore together the wealth of traditions and cultures from around Latin America that can be found right here in Nebraska! Please continue to check this page for updates about this event, as well as details of other upcoming NFN-sponsored events. Check out details from last year's Harvest of Traditions below!
NFN gratefully acknowledges support for the 2012 Harvest of Traditions from:


Highlights from the 2012 Harvest of Traditions

The Nebraska Folklife Network held its sixth annual Harvest of Traditions festival -- a Fiesta on the Prairie! -- on Sunday, October 7, 2012, along with co-sponsors Spring Creek Prairie Audubon Center and Doane College.  
The event was a festive good time, featuring delicious authentic Mexican food provided by Cristina's Restaurant in Crete, as well as live entertainment, including traditional music, dance, poetry, and storytelling.  Kids and adults alike were able to participate in fun traditional crafts and educational activities; and many took advantage of the opportunity to explore and interact with Nebraska's beautiful natural landscape through the Spring Creek Prairie Audubon Center's many nature trails and educational exhibits.  
Families, teachers, and students also got the opportunity to delve into the contents of one of the Nebraska Folklife Network's many cultural encounter trunks available for loan through Humanities Nebraska.  A very good time was had by all!  Why not join us in 2013?
Working with Nebraska Artists and Communities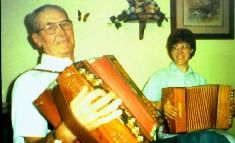 Across Nebraska, the traditional arts spring from a variety of sources and take many forms.  Folk artists have created living cultural artifacts in the form of quilts, wood carvings, beadwork, needlework, hand-tooled saddles, musical instruments, and architectural embellishments. 
The traditions of artists and communities can be seen, felt, heard, and tasted in the richness of kolaches and Greek pastries; the sounds of 
bouncy Czech, Mexican, Polish, and German polka music; the skilled dancing at Native American powwows and Asian cultural celebrations; and the excitement of rodeos and county fairs.  Nebraska has a deep agricultural heritage that includes many traditions from dowsing (water witching) to weather lore to saddlemaking.  It is a heritage that connects us to the land around us whether we currently live in the country or the city. These and many more expressions of folk art and folklife are integral to our daily lives. 
Hey everyone! Come to Mo Java on April 19 from 7-9 pm to catch our next international cultures night. It's called Different Drums: Beats from Nebraska Cultures. The event will feature three different drumming performances from different parts of the world. Featured will be drumming from Latin America, Asia, and the Middle East. There's so much cultural diversity in Nebraska. Let's celebrate it!